MANSORY PHANTOM BUSHUKAN EDITION
A class of its own, the Rolls-Royce Phantom VIII proves the meticulous craftsmanship Rolls-Royce prides itself in as the superior in automotive luxury. Since the Phantom debuted in 1925 as 'The Best Car In The World', enthusiasts expect nothing less of the eighth generation flagship model. As seen in its all-glass dash for custom artwork, Rolls-Royce takes bespoke opulence to a new level. It's hard to find where further refinements are enlisted. However, luxury car specialist, MANSORY has mastered bringing even the new Phantom VIII to unparalleled heights in its stunning MANSORY Rolls Royce Phantom VIII Bushukan Edition.
An instantly striking feature is the dual color paint consisting of black and "Bushukan" yellow. Created in-house, this exclusive color was named after the citron fruit found in Buddha's hand. The paint finish and new front fascia with an integrated extension of the radiator grille commands to be seen. Additional side skirts, restrained spoiler lip and a rear apron with diffuser also grace the MANSORY Rolls Royce Phantom VIII and add to its overall imperial presence.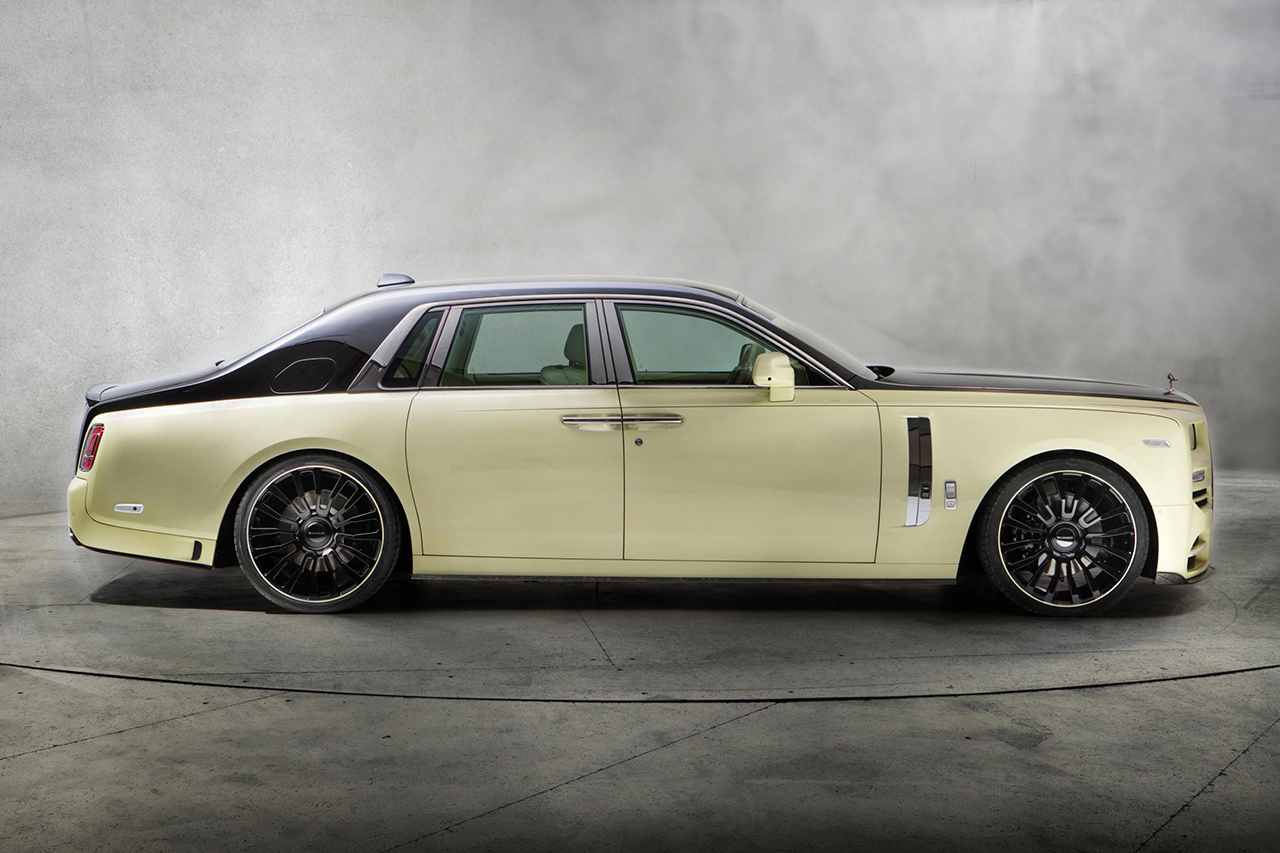 But no matter how fine a car, it must also deliver on performance. As such, the MANSORY Phantom delivers 610 hp / 449 kW at 5,100 rpm and boosts its torque to 950 Nm at 1,750 Nm via its V12 biturbo engine through optimization of the standard production control unit and sport exhaust system. The Bushukan Edition also features a modern take on a timeless design with fully forged lightweight Y.8 wheels that fit perfectly into the Phantom's dramatic wheel arches. The 10-inch wide MANSORY forged wheels are paired with high performance 295/30R24 tires that support the 2.6 ton luxury vessel while accelerating and braking.
A feast for the eyes, the MANSORY Rolls Royce Phantom Bushukan Edition continues in an equally sumptuous interior. Illuminated entrances and ambient lighting are pleasantly inviting. From its door panels to the headliner and centre console, every surface carries a sense of refinement and has been tastefully embellished with top-quality textiles and wood finishes.
Rolls-Royce distincts themselves as purveyors of luxury and MANSORY is no different. The Phantom VIII stands as not only a design masterpiece but also the most technologically advanced Rolls-Royce ever. Improving on such a feat is daunting but MANSORY has invariably accomplished just that.